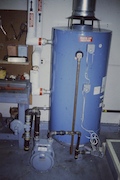 The solar tank

The solar storage tank is gas fired for back-up. Hot water from the panels circulates through the main storage tank and the back-up heater tank. The gas heater only operates if there is no sunshine to heat the water.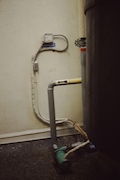 Circulating pump

The solar circulating pump moves water through the solar panels and the storage tank. The pump is controlled with a Δ T control box mounted on the wall near the tank. When there is heat on the panels the pump operates.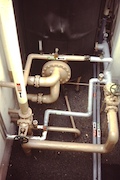 Some of the piping

Pipng which allows the water to flow through the solar panels and the storage tank is shown. The flange-like fitting is the heat exchanger from the boilers. The boliers are only needed for building heat on cold days.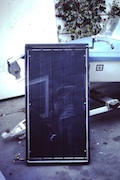 Larry's solar panel

Here is a mini solar panel that I built as a learning experience. It is made of copper flashing material and copper pipe. I tried it out as a heating source for my daughter's wading pool. It worked quite well.