Building Sunshine
a Cedar Strip Canoe

Construction began Sept. 17, 2011,
completed July 27, 2012.


The inspiration to build Sunshine came from several years of frequently seeing a large bundle of cedar strips that were stored in my grange. These were extras from building my 15'-10" canoe about 10 years ago. Every time I put my canoe away after a paddling trip, I'd see the extra strips. Finally, I decided to use them to build a smaller canoe. I liked the idea of a smaller canoe for the ease of carrying and the convenience of solo paddling or fishing. Also, the cedar boards I had for cutting additional strips were 13' long. The strongback was there as well, and the station molds. Sunshine will be 12'-10" long.


For several books that describe the complete and detailed process for building a cedar strip canoe, see the Reference Material page.


Click the thumbnails below for more images and description of the procedures
Click

here to see Thumbnails of all the pictures in this site.

The plan drawing of my canoe project represents what it should look like.

Cedar Strips are the primary material used in the building of a cedar strip canoe.

The strongback is the base or platform on which the cedar strip canoe is built.

Station Molds are the forms which determine the shape of the canoe.

The sheer strips installed on the station molds, attached with cleats and clamps.

With more strips on, Sunshine is now beginning to take shape.

Now is when all the sanding begins. We'll get a smooth , clean surface.

Fiberglass and Epoxy Resin are what will give the canoe its strength.

Ready or not, its time to tackle the inside.

The next step will be to build gunwales and decks, one part of the trim woodworking.

The seats are built on oak frames and woven with medium plastic cane.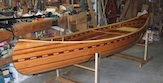 The final building phase for Sunshine will be varnishing the hull.

Extra, building a Paddle.

A few detail images of the finished inside woodwork.
The first voyage of Sunshine.

A week at Fish Lake, Oregon.

For the Wolfden Press website click

WolfdenPress.net
HTML validated
- Lets iCab

smile
Top